Zap Mama, Marie Daulne and 1000 Ways of African Expression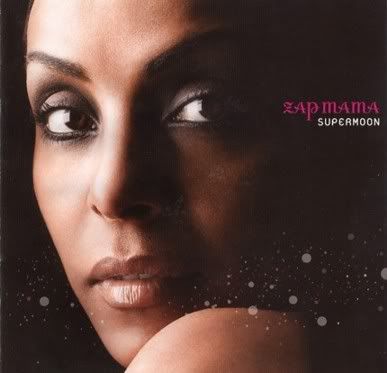 Zap Mama, Marie Daulne and 1000 Ways of African Expression
In the mid-90s, Vusi Khumalo, one of Africa's most accomplished percussionists, turned me on to an album that was like nothing I'd ever heard before. Vusi was one of the original South African musicians that Paul Simon collaborated with on his phenomenal breakthrough album,
Graceland.
Having traveled and performed with some of the world's most talented artists, Vusi couldn't say enough good things about a group of female artists playing in a band called Zap Mama. When he played their CD,
Seven,
I was enamored by a sound that was deeply African yet permeated with experimental jazz, rock, reggae and even hip hop influences, all held together by an incredible female vocal ensemble that fused rhythm and voice into something that blurred the boundaries of music, language, lyrics and beats. It was like beat boxing meets Ella Fitzgerald, Fela Kuti, Ziggy Marley and Weather Report. Truly fresh.
I came to learn that many of South Africa's top artists – musicians that are attuned to the best that jazz and African music had to offer, loved Zap Mama. It seemed that Zap Mama and the group's founder and lead vocalist, Marie Daulne, were
musicians'
musicians, not particularly widely known or popular with mass audiences, but deeply appreciated for their creative talent and innovative avant-garde African style. Zap Mama evoked many emotional responses in me; their ambient harmonies, danceable grooves, thoughtful lyrics and flashy jazz riffs were soothing and exciting, charming and subtle - yet sometimes downright funky. To hear Zap Mama is to experience Africa's music in a whole new dimension.
Zap Mama's founder, Marie Daulne, was born in 1964 in Congo-Kinshasha, to an African mother and a Belgian father who was killed in a Simba tribal revolt during the early turbulent years of Congo's independence. Marie's mother escaped with her one-week old infant into the jungle, where they were protected by Pygmies before eventually being airlifted to Belgium, where Marie was raised as a Belgian citizen. With interests in painting, gymnastics and martial arts, Marie was growing into a dynamic teenager when she began to feel an inner desire to know more about the mysteries surrounding her birth. At 18 Marie returned to Africa (at that time, Zaire) and she was attracted to Pygmy traditional onomatopoeic vocals and intrigued by cultural experiences that awakened something ancestral in her spirit. She began having "all these voices in my head" and hearing "things I'm not used to." The strange sounds and voices spawned a creative urge for musical expression that gradually led her to form Zap Mama after she returned to Brussels.
Zap Mama began performing in 1989 and in 1991 released its first album, Zap Mama, in Belgium. A year later the group was performing in New York and met David Byrne, who convinced them to re-release their album as
Adventures in Afropea 1,
on Byrne's label, Luaka Bop Records. By the end of 1992
Adventures in Afropea 1
became a top selling album on Billboard's World Music Chart and the group was basking in the excitement of developing a new worldwide audience. But Zap Mama left Luaka Bop after the success of
Adventures in Afropea 1
because of artistic differences and Daulne's desire to resist being marketed as a pop girl band. Through 6 albums over the next 15 years, Daulne and Zap Mama would evolve their music into a more sophisticated, multifaceted sound with a wider range of instruments and less emphasis on a cappella vocals.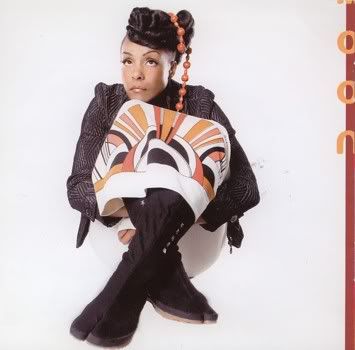 With 2007's Supermoon Zap Mama is once again in top form, enchanting audiences and new fans with their enticing vision of musical possibilities. Daulne remains determined to follow her own creative path, and is finding her influence and music continues to grow with a new generation of followers. During our telephone interview, Daulne was relaxed and very comfortable talking about her music, even though English is not her first language; her voice glides beautifully, with great warmth and sensitivity, much like her fascinating singing. She was very open about her life experiences, and perhaps is somewhat astonished or amazed that her unique creativity is loved and respected by many well-known musicians around the world.
"Sweet Melody"
Ancestry in Progress
Luaka Bop, 2004
____________________________________________




JA: Can you tell me about what "Supermoon" means for you, and what you would like it to mean for others?
MD: I want people to discover a new way of appreciation. I guess I have always understood jazz as an example of someone, an example of the person who made it. A lot of people focus on what something looks like from what is outside, but what about just feeling what you, personally, are born for? Every human being has their own way to enjoy life and really define by themselves what is true for them. I would call them a "Supermoon." The word "super" means something that is very good, and is full of life. There is only one Moon, in the middle of all these stars in the sky – being a Moon is being true to oneself.
And also I suppose I want to think of myself as very feminine, very beautiful and elegant and it's super – I mean my heart. My music never follows one kind of music, one genre. I always feel what I want to feel. Sometimes I play reggae, sometimes I do jazz, sometimes I play funk, and I think people can appreciate each one. My sound is unique, and my sound can speak to a lot of people in different genres, because if you hear with an open mind you can understand completely different genres. My own music is really different and a lot of people like it, because my music doesn't fit only one description.
JA: What were some of the highlights for you in putting the Supermoon album together?
MD: To be true again, I think I've arrive into a maturity, and there is no "way" for me to try to do things. I mean, I'm not saying that I want to hand this to people and I'm going to make this album for them to appreciate. I will do what I appreciate. I really feel that if it is good for me I know it will be liked by others, and others will appreciate it.
We are all the same – we are all human beings, we are reaching for the same things and we want the same things …. And I'm not shy to express my emotions. Sometimes we have feelings in life that hurt you and make you react; sometimes they make you feel personally very nervous about creating a song. I will give you an example. I lost my best friend two years ago, and I was very, very harmed and hurt. As a woman in this society at my age something like this can be very painful. I felt so lonely, too lonely – it paralyzed my life – I couldn't do anything. And when I decided to get the courage to go into the studio – at the end of the session I just found that it was amazing.
JA: Does pain or deep emotion drive a lot of your musical creativity?
MD: Yes; in the beginning I didn't like that. People want to buy my music, and that's nice, but why would I put my personal life in public – everybody has their own personal life. But then I started to realize that maybe I am more like a songwriter; songwriters write songs and people can identify themselves in the sound of their music. My personal life can be an example through music. If people like my music and can identify their emotions through my emotions, then why not? "Moonray" was that way. That was very hard, going back to this sadness – it was so hard. I would have to stop and I would start crying, and I was very embarrassed because the engineer was there.
A lot of songs come to me that way, like "Hey Brother." It was 4 in the morning when Michael Franti and me went into the studio and we planned to do a song called "Bodia," about people taking time to improve their lives. And we said forget about the audience – what about us, who are you and me, what happens between us? And the song became "Hey Brother" – it was just happiness, like when you receive an ice cream and it's very hot outside. You have an ice cream and it's something simple and fresh; there was real emotion there, accompanying the song. That song is deep, it is a real thing we have between us. Mike and me, yes, we are friends – and beautiful friends – and we did this song "Hey Brother, Hey Sister" and we really enjoyed it.
JA: Yes that's a very nice song and I can feel the friendship and the feeling of a man and a woman supporting each other. How would you describe your creative process in terms of how your compositions come to you and how you write and create your music?
MD: I have no idea! Songs come in my head, music, melodies, harmonies – I feel it. And it's like my melodies are turning in my head, turning around and around and around and they want to go out. They say, 'Can I get out of here?' And I say, 'Okay, okay, okay' and I run into the studio and whew – I get the melodies out like they are. It's like I have a conversation with my own music. I started music at a very early age and I had so many ideas. I have this music in my head and I keep struggling and then Monday morning a song is there with a melody and the words. I have no idea how the music comes to me, because I'm just born like that.
JA: When was the last time you were in the Congo and how often do you travel there? Do you have a strong feeling for the music scene in Kinshasha and other parts of the Congo?
MD: No, not especially. For me it was important because I wanted to know who my father was, because he was killed when I was born, and I wanted to go back there to see where I was born. I was 18, and I said, "Bye bye now, it's my time." And after this I went back to Belgium and I decided to discover the world. And I asked, "What do I have? I have Belgian culture, I have European culture and I have received African culture through my mom, and I said, 'I have this, what can I do with this?' Play with what you know, what you received." And that's it. From there I opened myself to the rest of the world. For me Congo is not especially my nation – I don't feel nationalist at all. I'm really an internationalist. I don't really know my family in Congo. My family is in Belgium and my home is Belgium. But if all my family moved to the United States, I would feel home is the United States. But I don't feel like I fit in one place.
Sometimes people want to see where they are born and they are very attached to their land. And I can understand that people are attached to land and that kind of beauty, but I don't feel that. I think we human beings can attach ourselves anywhere. I've always tried to find the perfect place to live. Like when I'm in New York, I saw, "Oh wow, I love to live in New York." And when I'm in Brazil, I say, "This is a place I would like to live." I love the Earth. I need nature; I need very beautiful scenery around me.
JA: How often do you travel between Belgium and the US?
MD: I'm here every month.
JA: Really? I didn't realize it was that often.
MD: Yes, I moved here to the US two times and I lived here for three years, and then I went back for my kids to be able to stay with their grandma, and their auntie and uncle. That was an easy decision for me, to tell you the truth, because I travel a lot and my kids need to know their cousins, and they are attached to their family. And then I decided to come and produce my music in the US, and my record label, Telarc is here. I'm like a businessman or a businesswoman traveling between Europe and New York.
JA: When I first heard of Zap Mama, I heard about your music through musicians from South Africa. Your music is one of the most respected music among Black artists or African-influenced artists. But maybe I'm behind on these things, but I don't get the sense that many Americans know about Zap Mama. Maybe in New York City they know Zap Mama more. Maybe you can describe the difference between your audience in the United States and your audience in Europe?
MD: I think I have audiences everywhere – underground audiences everywhere. I don't have a place where I'm especially bigger, maybe in some cities, places in California and New York. According to what the label said, New York, Los Angeles and San Francisco are the main places; and Brussels, Belgium and Paris for sure – I have a little bit of an audience everywhere. But it's always underground in certain cities – not countries – like Paris, Amsterdam and London. I can always keep traveling and there is an audience that is always following me, always discovering me.
JA: Do you find that your audience is growing rapidly by this underground contact and word of mouth?
MD: Yes. But the only problem with underground audience is they give (away) copies of my music – they don't always buy music if they like it. But if they like to have art they should support artists and buy their music.
JA: I think some people from Congo might see your music as being more mainstream, while other people would see your music as more complex, blending different genres. I find that difference of perception interesting.
MD: I think my music is more avant-garde than mainstream. Some of the ideas we'll think of 10 years after now, when we see what Timbaland introduced into hip hop music – he used sounds from world music – will be finding its way into the mainstream. I remember being in the beat box world, and what I brought 10 years ago - finally now I see its meaning. My music is advanced reality because I'm like Timbaland, or David Byrne – we can hear new music and we produce that work, and the way we present it to the audience is special. I'm really serving art and culture and people are inspired by what I do. Even Erykah Badu told me, "You're an inspiring woman."
JA: And do you do see your influence reflected in Erykah Badu's music? Or did she just tell you that and you didn't see your influence in her music before?
MD: Erykah said, "It's because of you and your concept that helped me find something in me." And yes, after she explained to me why she got certain parts of her songs, then I said, "Okay, now I get it."
JA: I think my musician friends in South Africa felt that you have a kind of deep influence on very talented musicians. Would you agree?
MD: Yes. I didn't know I was influencing them, but now I see it and it's true, I agree. People listen to other famous people for examples, and music is supposed to be like that. You give a young person this dream to follow what they want to do. I focus on my way, and it works; after all these years I've been successful all over the world and then I realize that, Bobby McFerrin, Herbie Hancock, Al Jarreau and all these big names from the jazz world, they appreciate my music. I realized that I had something special because I didn't just go to them; they come to me and appreciate what I do.
JA: What artists or musicians do you like to listen to, and who gives you inspiration?
MD: There are so many… The first music I was listening to was jazz, the second music was funk; and when I say jazz, I would say Billie Holiday, Ella Fitzgerald, people who are very classical, basic jazz music, and Louis Armstrong and doo-wop. I identified myself with American jazz themes because as a Black European I didn't really compare myself to the African community; I think I was attracted more by the Americans, maybe because of the Western mentality. I like old movies and musicals. I also listened to Neil Young and Graham Nash, Supertramp, Genesis and other things; with the guitar we were influenced by Bob Marley and Cream. And then later I was attracted by again by jazz, but more modern jazz like Wayne Shorter and Herbie Hancock. I also listened to Kraftwerk, Art of Noise, and then later James Brown and hip hop.
JA: When would you say you discover James Brown?
MD: When I was an acrobat and I when I was in my 20s we would go out to parties and dance. James Brown was my man! And when I started to do a capella things I realized that I could do funk with my voice. And I started thinking, what can I find in funk – it's fun, it makes you dance and it grooves – and I thought, how can I do that with a band, with all these voices? My second album (Sabsylma), for me that was funk. And people would say, "There was no funk in there." But it's my description of funk –t's fun, fresh and it grooves. I can't move like James Brown, but I can do that with my voice.