A Peacemaker in Africa's Brave New World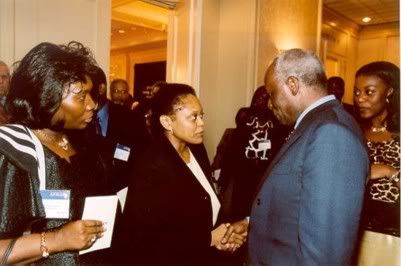 Jendayi Frazer greeting Angolan President Eduardo dos Santos as Angolan Ambassador to the US H.E. Josefina Pitra Diakite looks on.
I first met Jendayi Frazer 15 years ago when she was completing her PhD. At that time I thought of her as someone who was a deep source of knowledge and insight on Africa, and primarily as an academic and an activist. I saw her as a college professor, and not a policy maker. I think this article is interesting in that it shows multiple perspectives of what working through diplomacy and United States foreign policy can mean.

Jendayi Frazer's work is also very relevant from the perspective of being the Bush Administration's top diplomat in Africa. Bush, of course, has been and will be criticized for many things, particularly his foreign policy and the Iraq war. Nonetheless, the Bush Administration developed the most engaged and progressive Africa policy of any President in US history. Obama will naturally have an even stronger knowledge of and interest in Africa. His Africa policies will focus much more on nation building, while intensifying humanitarian aid and maintaining the same military and strategic security interests.
A Peacemaker in Africa's Brave New World


First as the US Ambassador to South Africa and then later as the Assistant Secretary of State for Africa, Jendayi Frazer has found herself in a remarkable position of power and influence regarding the daunting challenges of Africa's new millennium. Her small stature and soft voice belies her passion and intensity for uplifting the African continent on multiple fronts through diplomacy, development and conflict resolution.

At a time when the Iraq war has made many people hyper-critical of the Bush Administration's foreign policy, Frazer is proud to point to any of a number of success stories in the Motherland. She unapologetically views Bush as a bold leader with a strong vision for Africa, a president who is playing an unprecedented role in meeting Africa's most pressing needs and development imperatives. As an African American woman, her work with the Bush administration has been especially edifying, as her ties to Africa transcend the purview of standard career ambitions.

"I'm especially proud of the fact that during his administration there have been 6 wars (in Africa) that have essentially been ended," Frazer said in a telephone interview from her office in the State Department in Washington, D.C. "I'm very proud of the North/South agreement in Sudan that ended a conflict that killed 2 million people. In 2000 people were still being killed and hacked in Sierra Leone. In 2001 we helped put in place a more robust peace-keeping operation – specifically the Pakistanis – who took the diamond territory away from the RUF (Revolutionary United Front), ending that conflict."

As the State Department's top diplomatic representative for Africa, Frazer is especially concerned about peacemaking and conflict resolution. Frazer emphasizes that the Sierra Leone effort was a stark deviation from the Clinton administration's policy of no military engagement in Africa, given the disastrous mission of landing marines in Somalia in 1992.

"Clearly one can look at what's happened in Sierra Leone where we sent marines in and we broke from the Clinton administration's policy that there would not be any 'American boots' on the ground," Frazer said. "We sent marines in there and we helped transform that area into a democracy and hold accountable the individuals who were responsible for that conflict, including Charles Taylor."

Beyond Sudan, Sierra Leone and Liberia, perhaps Frazer's most personally rewarding work has been in Kenya. Early in her academic career as an undergraduate at Stanford, Frazer chose to specialize in Kenya, developing a heartfelt connection to the land and the people since first traveling to the region in the early 80s. It seems that her decades-long road of varied experiences and personal and professional contacts prepared her for a time when Kenya would face its worst crisis since the end of the British colonial era. Secretary of State Condoleeza Rice (her former academic advisor at Stanford) and President Bush placed a great deal of confidence in Frazer when it became evident that issues surrounding Kenya's recent elections would lead to terrible unrest. The elections were held on December 27, 2007, and by January 3, Frazer was in Nairobi.

"Secretary Rice asked me to immediately go to Kenya both because she knew that I knew people in Kenya because I spent so many years there and secondly because it is such an important country for the United States," Frazer explained. "We couldn't stand by and watch it descend into further chaos and watch people be killed without trying to act."

Kenya has long been considered one of Africa's most stable nations, an important economic and political leader that seemed somewhat immune to the ethnic and political strife that at times has afflicted its neighbors Uganda, Somalia, Rwanda, Burundi, Sudan and the Democratic Republic of Congo. While many people around the world were perplexed at the post-election violence, Kenya's problems were especially demoralizing for Frazer, given her personal friendships and long involvement with Kenya's development.

"I think the thing that was most disheartening for me was the hatred that I heard in how people talked about each other's communities. I've' been living in going to Kenya for many years, since 1981, and I've never heard so much stereotyping between the communities," Frazer said. "Obviously the violence and the killing were indescribable. But the heartening thing was the way that civil society was coming together, demanding something more of their leaders, calling for reconciliation, calling for a government of national unity."

Frazer said that one could see "the best and the worst of Kenya on display" in the early days after the election. She described an emotional and inspiring "Save Our Beloved Country" media campaign that aired on television and in newspapers shortly after the outbreak of violence. Frazer was particularly proud of these efforts, as Kenya has a relatively strong tradition of civil society non-governmental organizations and associations that are active in promoting democracy, governance, education and development in Kenyan society.

Frazer had known both Kenyan President Mwai Kibaki and the opposition leader and new Prime Minister Raila Odinga long before the current crisis. She met with several times with both sides independently and then worked behind the scenes to brief former UN Secretary General Kofi Annan as he led the negotiations that resulted in the current power sharing agreement. Frazer feels confident that the current power sharing agreement will hold, as it represents an evolution of reforms that helps balance and reduce the concentration of power in the Presidency. Nonetheless, she feels the future of the agreement will in large part be determined by "good faith and good will," and the ability of Kibaki and Odinga to work together.

In contrast to her mentor – Condoleeza Rice – who tends toward a rigid personality and professional persona, Jendayi Frazer is prone to quick laughter and a friendly, welcoming temperament even when elaborating upon serious policy issues. Frazer recalls being a teenage sophomore at Stanford when she took selected Rice as a faculty advisor and took her course on the Soviet Union and the Third World. Frazer later watched Rice leave Stanford over the years to work in both government and academia, and eventually ended up using Rice's career path as a role model. Frazer says that her love for Africa has led her to see her work in government as an extension of her academic career, as Rice showed her that both pursuits were "always available."

In addition to Rice, former Secretary of State Colin Powell helped shape Frazer's career by suggesting that she consider taking an ambassador post in Africa. At the time Frazer had been working as for Rice at the National Security Council as a Special Assistant and Senior Director for Africa. When the South African Ambassadorship became available, Frazer believed her 20 years of academic background and expertise would be valuable in a country where "US foreign policy is critical." The position in South Africa also seemed to be a natural progression from her work at the National Security Council.

"Because of that position I spent a lot of time working on South Africa and working with the principals – the Cabinet ministers, the Secretary (of State) and the President. So they came to know me based on the work that I was doing and when opportunities became available they would mention those opportunities to me," Frazer explained. "I had been in the NSC for about 3 and half years and I thought it would be good to get another experience. I wanted very much to serve in the field actually implementing policies – not just designing them in Washington, but implementing them on the ground."

As the first woman U.S. Ambassador to South Africa, Frazer found herself following the legacy of Ed Perkins, the first African American Ambassador to South Africa, who quietly worked to support African National Congress activists during the Reagan Administration. Frazer believes that American Ambassadors have been appreciated in South Africa "for standing for the right things." While she feels that she was very well-received, she acknowledges that it can be a very difficult position because of the complexities of South African society.

"It's a difficult place to operate in. You have South Africans that felt that even while the Ambassadors were helping on the ground our policies weren't there fast enough for them. They didn't feel that America took on the apartheid regime as quickly as we should have in terms of supporting sanctions," Frazer pointed out. "So you have this very mixed feeling among the population, and then there are others who feel we abandoned them as well."

Frazer said she felt very much at home in South Africa during her year-long tenure as Ambassador, although at times she engaged in heady arguments and disagreements about US foreign policy.

"They don't particularly care for some of our policies – I'm talking more of our global policies – they would have more of what I would call "a European" dispensation," Frazer said, with hearty laughter. "I enjoy fighting and arguing with the South Africans and I learned to 'agree to disagree.' I enjoy trying to help them get a better understanding of America."

After finishing her stint as Ambassador to South Africa in August 2004, Frazer was appointed to her current position as Assistant Secretary of State for Africa. She has worked tirelessly on a wide range of initiatives for Africa, and she feels very strongly that the Bush Administration has promoted progressive, positive changes for Africa, particularly with regards to HIV/AIDS.

"I think that some of the areas where we experienced tremendous success were the HIV/AIDS pandemic in Africa and how the President and Secretary Powell and Condi Rice came together to work out the $15 billion PEPFAR (President's Emergency Plan for AIDS Relief) program," Frazer points out. "It wasn't just them, it was also Tommy Thompson at Health and Human Services. But it was really Secretary Powell who was first to suggest a Cabinet level council on HIV/AIDS."

Frazer also pointed out that President Bush has dedicated unprecedented resources to fighting malaria in the President's Malaria Initiative (PMI), a $1.2 billion program that targets 15 countries with the goal of reducing mortality rates by 50%. In addition to the PMI program, Frazer says that the current Administration has exceeded expectations by raising American development assistant to $5.6 billion, while some international aid organizations have been pushing to get development aid to the $1 billion level. The Bush Administration's development initiatives also include the Millennium Challenge Account, which provides debt relief to nation's demonstrating good governance practices.

"Today 19 countries have benefited from debt cancellation, providing about 34 billion that can be put back into their economies for health and education of their people," Frazer said. "So I'm very, very proud of all those initiatives."

A woman with a soft voice and a big agenda, Jendayi Frazer pushed herself to the frontiers of diplomacy and development in the brave new world of Africa's new millennium. Surely a future generation of African-American academics and leaders will build upon her notable work, with even more and greater achievements yet to come.