Invictus: Perceptions Cast upon a Moment of Time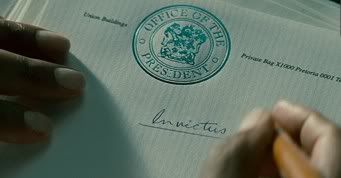 Invictus is an inspiring film with fascinating historical content. Clint Eastwood's latest cinematic production provides an intriguing glimpse into the some of the endearing moments that changed engrained prejudice and helped cement South Africa's social transformation. Based on John Carlin's book, "Playing the Enemy: Nelson Mandela and the Game the Made a Nation," Invictus casts light on Mandela's brilliant strategy for using the 1995 Rugby World Cup to make the Springboks national rugby team a moral force for change. Through deft moves, love, personal character and a sense of inclusiveness, Mandela was able to prevail against a history of fear, hatred and violence. (Check out John Carlin's article in the

Telegraph,

"How Nelson Mandela won the rugby World Cup.") In retrospect, it is all too easy to take for granted that South Africa's political transformation was a matter of destiny, rather than the aspirations of individual personalities who found within themselves the ability to lead by example and reconcile past injustices.
Nelson Mandela and Africa have much to share with a world hungry for revelation and new ideals. Hopefully we can learn much more of the authentic wisdom, beauty and challenges Africa has to offer us, without getting lost in the commercialization of the storytelling process. The way African stories are told and how African American actors are accorded certain roles because of their box office celebrity status is part of an ongoing dialogue that I was having the late John Matshikiza. I wish you were still here with us, bra John; your grand crooked smile, your hilarious sense of humor, your sharp insight and intelligence are deeply missed... With time, I imagine that we'll get it right, bra John, and more African screenwriters and African actors will claim their place on the world stage and garner international audiences. Films like Invictus are an evolution in the process.
Invictus: Perceptions Cast Upon a Moment of Time
Everyone has an opportunity for a moment of transcendence, the potential to experience unity and humanity beyond intransigent definitions of race, class and culture. The film "Invictus," starring Morgan Freeman and Matt Damon, portrays a powerful moment in the evolution of the New South Africa when the Springbok national rugby team – against extraordinary odds – won the 1995 World Cup and unified a nation that was still emerging from the painful reverberations of apartheid. In his inimitable way, Clint Eastwood has fashioned this true story into a well-crafted, intricate narrative that gives viewers an inspired picture of history.
Sport, in many ways, is a profound force in human society and popular culture, at times intimately bound with politics. When Jackie Robinson broke the color barrier in Major League Baseball in 1947, it foreshadowed the momentous social changes of coming the civil rights movement and greater visibility of Black culture in mainstream America. In an inverse way, the Springboks victory in the 1995 Rugby World Cup shattered cultural barriers between white elites and the African majority, boosting the nation through a quantum leap toward a greater sense of unity.
Such moments in sports history are the stuff of legends. At the highest level of professional sports, in Olympic competition, international soccer, the NBA, NFL, track, boxing and tennis – exceptional athletes amaze us with the will power, strength and endurance they summon in their phenomenal feats. "Invictus" documents a time when sport reaches a transcendent moment on the world stage that means much more than high fives around a glistening trophy or the fever pitch of an incredible last minute game-winning score. Like Jackie Robinson changing America through baseball, Jesse Owens uniting his nation against Nazi ideology, Joe Louis defeating Hitler's champion Max Schmeling or aboriginal Cathy Freeman taking the 400 meter gold on her home soil at the 2000 Sydney Olympics, the Springboks presence in the 1995 World Cup Final captured the world's imagination with South Africa's aspirations for a new identity.
In the early years of his Presidency, Nelson Mandela showed an enormous capacity to reach out to both black and white South Africans, navigating cultural minefields and finding ways to compel them to work together. Indeed, Mandela began his mission to bring South Africans together by first retaining the previous white staffers from former President Willem de Klerk's office, and boldly asking both white and black bodyguards from the African National Congress (ANC) military wing and the South African security forces – formal mortal enemies – to serve together as one racially integrated Presidential Protection Unit. Mandela forced the issue and suddenly South Africa had a very visible contingent of body guards – both black and white – surrounding him in all his public appearances. (That didn't stop Mandela from at times slipping away from his handlers to wander among the exultant street crowds in downtown Johannesburg, but the image change with his new multi-racial charges was palpable.) In countless ways Mandela used his will power and personal magnetism to undermine South Africa's polarized racial tensions, from saving the Springbok logo and colors (a despised symbol of Afrikaner domination) to easing fears among high-ranking generals in the white military establishment.
Mandela built a profound relationship with Springbok captain Francois Pienaar, encouraging Pienaar and other members of the team to see themselves in a broader vision as sports role models working to bring rugby into South Africa's black townships. By the time South Africa reached the quarterfinals game with Western Samoa, black South Africans had become enamored with the Springboks success and the sudden possibility that despite conventional expectations, the Springboks might advance to the and perhaps even win the Rugby World Cup. Attitudes were indeed changing among sports commentators, government officials, journalists and political leaders, and the film deftly portrays the genius of Mandela's ability to inspire, provoke, goad, question and persuade blacks and whites to this new vision. (The converse of Mandela's ideal – not quite addressed in the film – is that many activists in the ANC felt that Mandela 'sold out' and gave up too much in the name of racial reconciliation. But the danger of a military coup was very real, and it seems some sacrifice was necessary to produce accord on all sides.) Like "The Miracle on Ice," the outcome is known and expected; the Springboks emerge victorious, World Cup champions after 13 years of international boycotts and isolation. But the journey to the climactic triumph in "Invictus" is an emotional testament to how ensconced attitudes and hard prejudice can be changed by positive intentions.
While the journey to the World Cup championship is masterfully portrayed, Eastwood may perhaps be forgiven for not quite capturing the raw emotion and jubilation of the crowds pouring into the streets, from Johannesburg and Soweto, to cities, suburbs and black townships across the country. Glued to their TV sets, the streets were eerily empty and quiet while everyone watched the incredibly close and intense game, which went into overtime and was finally won by an amazing drop-kick by fly half Joel Stransky. The underdog outsiders – absent from years of international competition – had become the unexpected world champions.
After watching the game live in Johannesburg, I couldn't contain myself and had to take a drive around the city to gauge people's reactions. I joined a crowd commencing on Rocky Street, which in sheer numbers and energy extended far beyond the wonderful celebrations surrounding the amazing 1994 national elections. It seems that whites who had been sitting on the fence or were quietly reticent about the New South Africa had come out of the woodwork to be part of a dynamic new unity and identity. As I watched the informal parade of crowds shouting and singing, an Irish immigrant who owned a photography shop on Rocky St. turned to me and quietly said, "It's a great country, James." I suddenly realized how the power of sport can trump the power of politics, and it felt like I was witnessing the true birth of the New South Africa, on July 24, 1995, more than a year after Nelson Mandela's Presidential inauguration at the Union Buildings on May 10, 1994.
________________________________________
The performances in "Invictus" are compelling, and the film has a natural flow that gives one a tremendous feel of history leading up the to the World Cup match. Typically however, many South Africans have mixed emotions and almost ambivalent reactions to films like "Invictus," which flatter them by bringing their extraordinary history and culture to the world stage and then mangle the languages and accents enough to leave them feeling like their seeing a American B-versions of their nationhood. In a country with 11 official languages and most people are bi-lingual -and many Africans speak 4 or more languages - outsiders are often numb to linguistic nuances and complexities of a society that has a profoundly rich culture with its own celebrated literary, music and theatrical traditions.
Films like "Invictus," "Cry the Beloved Country," "Drum" and "Cry Freedom" can be particularly vexing for black South Africans, who feel as if their culture is being exploited while they are passed over in favor marquis African American actors like Morgan Freeman, Taye Diggs and Denzel Washington. I wrote about
this before
in response to John Matshikiza's
With the Lid Off
column, where he hilariously berated "black Yankees being cast in roles that African actors can fulfill with ease, grace and, dare one say it, the whiff of authenticity..." Films are an investment, and studios and producers want the international celebrity status and bankable box office appeal of Matt Damon or Morgan Freeman to reach a wide audience, preferably paying in dollars and euros. In the meantime SABC and Channel Africa are busy exporting their own soap operas, sitcoms and television productions to Africa, in their own bid for a certain kind of pop culture hegemony over growing expansion of entertainment media in Africa.
Nelson Mandela is a particularly hard character to portray, because his voice is distinct apart from the difficulties of emulating his Xhosa accent. But Terrance Howard is set to play Nelson Mandela alongside Jennifer Hudson as Winnie, and from the early trailers, it seems that both accents are horrible, even to an insular, insensitive American ear. We love the stories and we need the stories; but something gets lost and a little warped in translation. Oh well, I'm so sorry, my dear bra John, but it seems this change may take some time...