Aboriginal Bling: Art, jewelry and the human alchemy of gems and minerals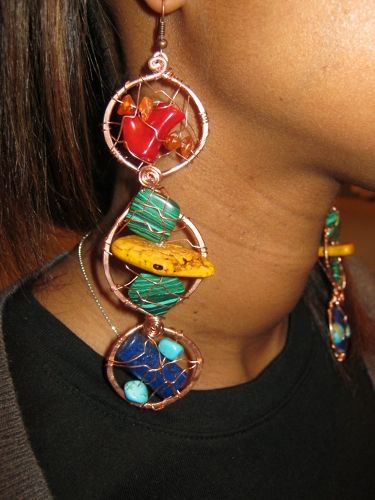 For many years now I've had some phenomenal experiences with crystals, which are sometimes hard to explain to people who think of the Earth and its minerals as being essentially inanimate matter and having no humanly discernible vibration or energy. I could go on and on describing these experiences, but one event in particular stands out. When I lived in Johannesburg I bought a huge amethyst cluster crystal from Zambia that was about 3 feet tall and 3 feet wide; after I had it placed in my backyard near a banana tree, I watched the tree grow and expand until it bore clumps of bananas that were NEVER there before. In fact, the base of the banana tree grew so much it even pushed out some of the cobblestones in the surrounding pavement! Given my personal experiences, when I learned about Fulani Malik, Ras Tree and their jewelry, their "Aboriginal Bling Blam" concept naturally caught my interest. I believe their style and aesthetic – maintaining most of the natural size and characteristics of their gemstones – makes sense in terms of the way crystals theoretically may interact with our human electromagnetic field. Our bodies emit electricity – or to be more exact, electrical waves – that change with our health and emotional states; crystals are conductors of that energy, just like they function in modern electronic devices like cell phones and computers. I hope this article might spark some interest in not only in the beauty of Aboriginal Bling Blam creations, but also in the wider implications of what crystals can potentially mean for the personal experience and awareness of people wearing them.
Aboriginal Bling: Art, jewelry and the human alchemy of gems and minerals
Fulani Malik is a highly creative artist with an extraordinary mission. Along with his partner Ras Tree, Fulani creates very impressive hand-made jewelry out of virtually every mineral, gemstone, metal and crystal imaginable. Keeping most of their stones in a bulky, uncut or unrefined state, their creations resemble an African or indigenous native aesthetic, with bold, innovative shapes, textures and positioning. Their avant garde designs – wrist, arm leg and ankle bracelets, necklaces, pendants, earrings, crowns, tiaras or any conceivable body adornment – are truly distinctive and eye-catching. Their company, Aboriginal Bling Blam – is aptly named; it seems as if these two entrepreneurs are singlehandedly redefining the nature of visual opulence and "bling."
The average Aboriginal Bling Blam creation might be three or four times the size of a typical Western style ring, pendant or bracelet; the stones are set in combinations of nickel, silver, copper and brass wire settings that appear tribal and primordial, yet also elegant, stylish and graceful. Malik describes the jewelry as "wearable art." But the concept behind Aboriginal Bling Blam goes far beyond the abstract, Picasso-like innovations with brightly colored stones, unusual shapes and unconventional lines.
Sitting underneath a row of Sanskrit prayer flags in the artsy, bohemian atmosphere of the Gypsy House in Capitol Hill, Malik – sporting shoulder-length dred locks, a beautiful African mud-cloth robe and a charming, graceful smile – tells me how his improbable venture was born in the aftermath of Hurricane Katrina. Malik and Ras Tree were both construction workers helping rebuild New Orleans – Malik laid electrical and fiber optic cables, and Tree did roadwork in the sand and swampland. It was Tree who introduced Malik to Baba Ken Amin, an elder who made jewelry with natural elements.
"Ras Tree knew all the different elements of the Earth from doing roadwork and I always had a lot of metal around," Malik explained. "Ras Tree said, 'Man, you got all that copper – let me do something with it."
Through Baba Ken Amin's guidance, Malik and Tree both started making jewelry – beginning with rings, necklaces and bracelets – while also learning about crystals, minerals and gemstones and the energies of the Earth as their work evolved. Before long, they began setting up booths outside of local events, and their sideline work became "another aspect of spreading good, positive, healing energy."
"We would share the energies with people. We would have the literature and our different stones out, and it really helped people with the recovery process," Malik said, "That's where it just got kick-started and it was coming natural."
Malik opens a large canvas bag packed with his fascinating combinations of gemstones, minerals and crystals and their unique copper, nickel and silver wire settings; the pieces look almost like they could have been retrieved from an ancient archaeological burial site. He carefully spreads the jewelry out on a table, showing some matching necklace, bracelet and ring sets, as well as remarkable individual pieces. Malik – whose grandmother is from Ghana – says most of his creations come from "ancestral meditations and ancient techniques" stemming from his West African roots, while about one-third of his work is custom jewelry he makes for individual clients.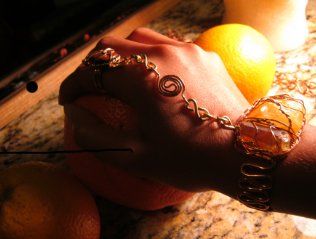 Malik's voice becomes more animated as he talks about how Aboriginal Bling Blam's jewelry taps into the "alchemical power" of minerals and crystals. He explains that minerals are the foundation of all planetary life, and basic components of our body's cellular structure and metabolic processes; hence the stones have a vibrational relationship with the DNA codes of human evolution. Furthermore, crystals are the only substances that have the same microscopic, molecular symmetrical structures as their outer, macroscopic form, and therefore are excellent conductors and magnifiers of the human body's electromagnetic field. Crystals also have a measurable impact of piezoelectric charges, and the energy sensations can operate like a biofeedback mechanism or a meditative process.
"The energy of this work is universal because of the DNA – these gemstones, the DNA – we all come from the Earth. I just tap into that, I can just pull in from that," Malik says, adding that specific stones can affect different aspects of a person's physical, emotional and mental awareness.
"Quartz in itself has a purifying affect; it's a purifying and cleansing stone. Rose quartz specifically denotes love. So when I'm working with those two stones it's a specific type of purification of love," Malik explained, pointing out that he often works directly with his individual clients to meet their special needs. "I share the energies of the rose quartz. They tell me where they would like it placed, and then I can help.
"I can do anything from treating eye infections to healing the bond of the mother and a child. I try to steer people toward quartz if it's their first time working with stones."
Malik says the nickel, silver, brass and copper metals also channel the movement of subtle energies through the body. The metal designs are often formed into spirals and very fluid, waving, curving lines that look like little rivers or streams. Malik explained that through the evolution of his jewelry making he learned that those designs were symbolic of Kundalini, an energy that yoga masters say awakens and rises through the spine with a person's spiritual development. In Sanskrit, Kundalini means "coiling, like a snake." Malik believes that his jewelry pieces – the combination of the metal energies and the minerals and crystals – help facilitate a spiritual awakening in his clients, even if they might not describe it with terms such as Kundalini.
"I think the jewelry gives them an unconscious awareness of feeling the energy of 'the river' within them being unending, and not having the energy stop. I think it carries the natural flow of energy you possess – Kundalini is a non-stop energy," Malik says. "The truth is, the ancestral vibe I'm drawing from, it's not something I'm purposely trying to do – it's something the ancestors want awakened."
Malik lives in Albuquerque, New Mexico and Ras Tree lives in St. Louis, Missouri. Malik says he and Tree work together "like Voltron" no matter where they are, although they are most effective when they travel together; the two partners do about 6 to 8 art shows each year. Malik says that Aboriginal Bling Blam "easily" took first place among the fine arts booths at this year's Taste of Colorado festival. Between their art shows and custom design work, both Malik and Ras Tree work full time on Aboriginal Bling Blam, while Malik also creates fine art for several art galleries in New Mexico.
"I moved to Albuquerque 5 years ago. I wanted to come out into the desert and open up my creativity," says Malik. "To have the big space to meditate in is a wonderful feeling for me. I live in the outskirts, on the west side of the city where most of the petroglyphs are."
(Fulani Malik holding the First Place Award for Best Fine Arts Booth at the Taste of Colorado, 2013.)
Aboriginal Bling Blam custom rings start at $35, and can range toward $300. Bracelets start at $50, necklaces start from $80, which includes a consultation. They can be found online at http://aboriginalblingblam.tumblr.com/ and at fulanimalikllc@gmail.com or fulanimalikllc@etsy.com.