Michael Winslow: Sound, Comedy and the Origin of Beatbox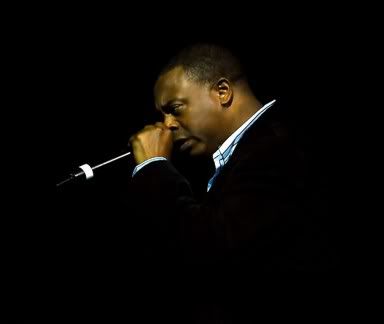 Michael Winslow, man of 10,000 sound effects and the "founder of modern beatbox"
Michael Winslow is like no other modern comedian. His vocal contortions are absolutely amazing, and he astounds his audience at what is possible with the human larynx. I think this story is captivating not only because of Winslow's path to Hollywood success, but what his comedy style may tell us about sound itself. Winslow has pushed himself to edge of exploration in sound, whether it involves interspecies communication (Winslow has imitated and interacted directly with both tigers and dolphins under scientific observation) or developing his own internal ear by immersing himself in natural environments with no human sounds. As a motivational speaker, Winslow sometimes speaks to audiences about awareness of sound and developing a "feng shui" of sound in one's home. He believes that kind of sound awareness can improve one's intelligence, educational achievement and overall well-being. Quite something to consider from the man who made millions of people laugh over and over again through 7 "Police Academy" productions. In some ways it's not all that surprising that Winslow was one of the originators of the creative phenomenon known as beatbox.

Michael Winslow is an utterly fascinating comic genius. The man who achieved fame in the 80s as Officer Larvell Jones in the "Police Academy" movie franchise has traveled around the world spreading his unique style of vocal comedy, which can include anything from imitating an entire film soundtrack with his voice, to performing Jimi Hendrix or Led Zeppelin – vocals, guitars, bass, drums and reverb, auto tune, delayed echo, etc. – all with his voice. Or how about watching Winslow execute a fascinating sound performance of a Wimbledon Grand Slam tennis match? Winslow gives new meaning to the truism that the average human being uses only a small fraction of the potential of our vocal cords.
More recently you may have seen Winslow doing the Black Hawk "Cha-ching" Casino commercial, or Geico or Cadbury ads, or on the television program "Robot Chicken." In addition to having a cult following from his hilarious appearance in "Space Balls," Winslow's voice or vocal effects are found in the movie "Gremlins," Disney's "Back to the Future" and "Terminator" rides and in the video game "Grand Theft Auto: San Andreas." He is truly a prolific entertainer and one of the most unique comedians of our modern age.
After getting his first taste of a successful comedy performance at Tulagi's nightclub in Boulder in 1979, Winslow dropped out of Metropolitan State College in Denver and decided to move to LA to pursue a career as a standup comedian. A TV appearance on Chuck Barris' popular "Gong Show" earned young Winslow a grand total of $516.32, which he used to buy a 1969 Mercury Cougar that temporarily solved his homelessness problem. The Cougar also got him out on the California comedy circuit. Eventually Winslow was spotted by director Hugh Wilson and Producer Paul Manslanski, who were so impressed they decided to write him into the script of "Police Academy" as Cadet Larvell Jones, the crazy sounds effects man. It was a stroke of genius - Winslow fit perfectly into the enormously creative role that would endear him to millions of fans for decades. But searching for his big break and finding his place in Hollywood turned out to be an incredibly tense and stressful journey.
"For me it felt like a sword fight. Everybody felt like that," Winslow told me during a recent telephone interview. His tone changed and there was a certain sadness and humility in his voice. "It was like sword fighting with time itself. You've got a hundred folks that want to come in, and you've got slots for 40. You have to be there early and you have to fight for those slots. And you get three minutes, so you've got to put in 8 hours or 11 hours or however long you're going to be there and get that three minutes and you hope that it's a prime period when the audience is there."
Winslow has some memories of hanging out with the legendary wild man, the late Sam Kinison, which certainly made life in California interesting. Now he looks back and laughs, but Winslow remembers a time when Kinison nearly got the two of them killed.
"We were at this one place, one of the colleges we were playing in, and Sam was going off. He was doing his thing. And I remember the Iranians wanted to kill him," Winslow said, with a nervous half-chuckle. "And I'm thinking, 'Man, come on Sam, you're my ride home. Be cool, please?' I go to the bathroom and then I come out and then Iranians are rolling on the floor laughing. How did he do this? The Iranians were on the floor – literally, laughing! I don't know what he did, I don't know how he did it – all I know is he was picking on this Pakistani guy. And the Iranians thought that was funny. "
Larvell Jones from "Police Academy"
Many people loved the "Police Academy" movies because of Larvell Jones, the eccentric character whose sounds turned drove people crazy or turned a scene upside-down, always leaving the audience roaring with laughter. Perhaps the most intriguing aspect of the original "Police Academy" (the franchise was so successful they eventually produced 7 sequels – an extraordinary feat even in Hollywood cookie cutter formula filmmaking) was the Larvell Jones' opening scene. When Mahoney (Steve Gutenburg) sat down next to Larvell Jones, Winslow is imitating a drum machine, pulsating 80s hip hop rhythms and beats with his voice. The vocal gymnastics were an innovation Winslow created and later came to be known in hip hop culture as "beatbox."
"When Jones and Mahoney met for the first time. Jones was doing beatbox. That was 1983, so that made me the first person to ever to record beat box on film," Winslow says. "I use the phrase, "the founder of modern beatbox." There were a lot of folks who came out right about the same time, after Police Academy. But that was the first time anybody had ever seen beatbox – and that was a worldwide release of feature film.
"It's been what it is ever since. Though now, I have to revisit everything, because everything's come full circle. I will be putting one of those things out, raising the bar again. We'll freak everybody out again and we'll see what happens."
Hip Hop culture generally recognizes Doug E. Fresh as the pioneer of beatbox; his first popular singles "Just Having Fun (Do the Beatbox)" and "The Original Human Beatbox" came out in 1984, and his first album, "Oh, My God" came out in 1986. The first Police Academy movie was also released in 1984, but production on the film was started in 1983.
Winslow constantly has his eye on the horizon, thinking about his next innovation, something that can make his use of sound accessible to as many people as possible. Talking to him, one gets the sense that the new technical developments in digital communication and technology are tailor-made for a world of possibilities that Winslow is currently experimenting with, although he may not be able to predict the evolution our outcome of his ideas. At his home studio near Orlando, Florida, Winslow has already produced some new I-Phone and Android apps that are available for download from his web site. www.michaelwinslow.net. Like most everyone, he hopes his apps will turn heads or catch on virally.
"If there was a way that I could put it in a bottle, I'd like to give it to everyone. Around 1900, that's what the guy from Coca Cola decided. 'How do I get this thing from the soda fountain to everybody else?' And some guy told him, 'bottle it.' That's what I'm trying to do right now, is figure out, what's the best way to contain this and use it as and educational tool – entertainment but education too," Winslow explained. "That'll probably be through applications through I-phones. It means I'm probably going to have to come up with games for the phones. But we'll probably end up putting whole shows on there – people are going to be watching TV on their phones."
Winslow relishes traveling because "sound is universal" and he finds he can reach new audiences across cultural barriers because everyone understands sound, regardless of the language they speak. A recent performance for a national TV program in Brazil charged an audience of 30 million and put Winslow in a "top 10" Twitter feed. Winslow was surprised at the response.
"You would be surprised at what will set people off," he said, adding that he loved Brazil and hopes to return soon. "So you try to keep the sounds ready to go."
In order to fine tune his ear and develop his creativity, Winslow has to immerse himself periodically in natural environments that are completely isolated from man-made sounds. His favorite place is Maui, but he also enjoys traveling to Australia and New Zealand, which have natural sound environs that are "very rich in the potential for the soil of creativity."
Winslow is bullish on his concept of using sound for education. One of his latest projects is a children's DVD which explores the world and various locations through sound. The pilot program was funded by none other than America's favorite family and children's comedian, Bill Cosby.
"All the animals can talk and the puppets have noises and the animals write the checks and that kind of stuff – it's just nuts! Winslow says, his voice rising in excitement. "I'm taking it to television. I may have to go to all these other countries to shoot the episodes. None of our kids' shows go anywhere. But we actually go there. And I have no problem with actually asking a tiger questions, and I'm sure that the dolphin can show us which way we should go."
Winslow says he did a few experiments with a scientist to see if he could communicate with animals. According to her measurements, Winslow's voice was 93 percent similar to a tiger and a crocodile. But it seems his raw ability to communicate with other species needs some development.
"In order for me to speak to the thing I would have to sit with it for a few weeks, and I'd have to learn routines and mannerisms and what hunger means – basically we'd have to get to know each other," Winslow says. "I know enough to get in trouble, but not enough to get out of trouble. That's the part I'm learning now."